Description
Head Gasket  (Payen AA680)
Application; 1934/38 Eight
Morris Part number;X15019
Payen: 1750
Comments; These gaskets are new old stock and consequently are sold at a much lower price than newly manufactured gaskets. Photo is of the actual gaskets.
When they are gone they are gone!
We also have about 20 slightly damaged gaskets (usable, most have had a small knock on one corner), open to offers these will only be sold at the attended shows, so that prospective purchasers can see what they are getting.
Cylinder head studs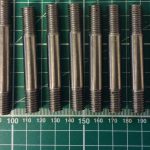 Whilst replacing the gasket its worth inspecting the head studs; those stretched from repeated tightening or with damaged, dirty or corroded threads should be replaced. Replacements can be found here.